What factors are hindering your business growth? It could be your phone system.
Really, you ask? Yes. Can your office phone system go with you and your team anywhere? Are you missing out on important potential client calls due to lack of mobility? Let's talk more about some of the hidden challenges with business phone systems that you might not be aware are causing unintended roadblocks.
Estimated read time: 3 minutes, 10 seconds.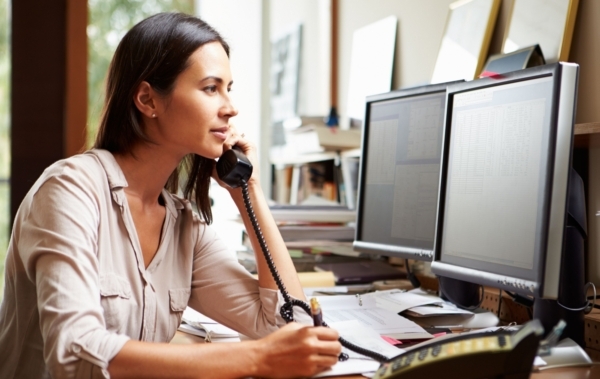 Dropped calls, bad connections and garbled call quality; the frustration is real.
Business phone systems are often a first point of contact for teams, customers and potential clients alike. When that connection is unreliable, hard to use, or poor in quality, both team members and new clients may take pause before picking up the phone. Moreover, new business opportunities may be missed entirely.
Simply put: Business phone systems will fail at the worst time possible, if not kept updated.
Along with quality concerns, outdated systems may not be able to effectively handle unforeseen emergency events like natural disasters or outages. Having access to communicate with your team and customers may seem obvious, but it becomes an even higher priority in an emergency situation.
Not only does upgrading your business connection help you prepare for the unexpected, it also opens the door for additional business opportunities.
A reliable business solution ensures:
The right people can reach you and hear the conversation clearly.
Better security over your call data.
Easier call handling (including transfers, holds, etc.).
Scalability and mobility.
Highly accurate tracking capabilities for calls.
Direct call and performance metrics data delivers important information helpful for making strategic operational decisions. CRM integration in a business phone system also helps with getting the most out of your technology. This, in turn, improves your understanding for how to make your business grow and thrive.
The better and more reliable your connection is, the better your team – and business – will perform. Adding valuable customer service data to the mix is a nice bonus, too.
The Hamilton team understands that your businesses goals and needs require the most effective and efficient solutions. We support your business objectives and team through both premise and hosted phone systems that help you remain flexible, innovative and competitive without driving up costs.
Premise vs. Hosted Phone Systems. What is the difference?
PREMISE PHONES
Premise phones are an optimized on-site approach to traditional phone systems. Designed to boost efficiency and provide teams with up-to-date tools and technology, they include key features such as:
3-Way Calling
Call Holding
Direct Transfer to Voicemail
Mobile Device Contact Syncing
And more!
If your team is frequently in-office and prefer a more hands-on, proximity-based system, or perhaps do not require the mobility and device-switching capabilities of hosted phones – a premise phone system may be the best fit for you.
Additionally, keeping your business phone system up to date helps with maintaining software patches and current operational infrastructure. Ultimately, that means less overall maintenance and troubleshooting for your system. Keeping your phone systems current helps provide the peace of mind for both your team and your clients.
HOSTED PHONES
Wireline phones can now be a thing of the past.
Hosted phone systems provide cloud-based connections with a wide variety of web-based features and increased mobility for your entire team. This IP-based system allows for routing calls through a handset, mobile device and even a PC/Laptop. This allows your team the ability to take care of business while working remotely. They can switch seamlessly between devices as needed, making the workflow easy.
Being able to take calls anywhere means your connection can stay clear and strong through moves, expansions, work-from-home scenarios or even unexpected weather events. When paired with the mobile flexibility from a variety of hands-free headset and speakerphone capabilities, businesses can stay connected just about anywhere, with fewer wires along the way.
Updating to a more modern hosted phone system also means getting all the benefits of modern technology's security features, including:
Customized password and logins for team members.
HTTPS secure provisioning.
Built-in encrypted configuration files.
Secured call data.
Whether in-office or remote, the IP-based format of a hosted phone system allows for easier managing of the entire phone system regardless of team size or locations. This all takes place through an online, easy-to-use administrator web portal. This means you may troubleshoot, manage and secure your business phone systems all in one place efficiently, even if working remote.
Hosted Phones Provide the Additional Ability to Review Reporting Metrics.
Going hosted also provides a varied portfolio of business performance tracking tools right at your fingertips. These tools help measure call performance, especially from a customer service standpoint, helping teams zero-in on areas for improvement and make data-informed decisions. With CRM integration capabilities available, you can ensure everyone's up-to-date when it comes to your call data.
With Hosted phones, you can get accurate reporting on metrics including:
Incoming Call Volume
Number of Calls Answered
Number of Calls Missed
Average Call Length
And Much, Much More!
If your team is seeking more mobility and flexibility in their phone systems, alongside higher security features and integrated tracking capabilities, a hosted phone system may be the best fit for your operation.
Our Approach to Better Business Phone Systems
With decades of experience in helping businesses achieve their vision and goals, Hamilton is proud to provide reliable, effective technology systems, backed by a local team of experts.
We collaborate directly with businesses to build, maintain, and protect technology that ensures success for your entire team. Additionally, our response time is second to none, getting your business back up and running both efficiently and effectively when you need it most. With Hamilton, we make IT work for you, which means no waitlisting, no standby, and no "bait-and-switch" tactics.
Hamilton is eager to build a connection with you and to help build and support custom solutions that upgrade your business connections and enhance your day-to-day communication. If you're looking for additional solutions for your business, from access control to data center services and much, much more, consider taking a look at our full list of available services.
Fill out the form below and one of our expert team members will be in contact with you very soon!
Feel free to call us directly at 308-381-1000.
Discover more about Hamilton Business Solutions here!