The often forgotten about piece of technology — cabling, security and access solutions are just as important as your businesses PC's, software and internet connection. Why? Listen in on a recent radio interview with Dereck Djernes, Division Manager for Hamilton Information Systems as he explains more.
Estimated read time: 3 minutes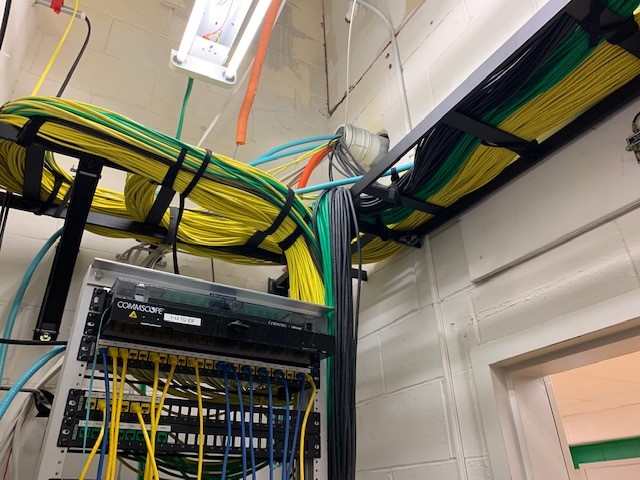 Why Are Cabling, Security and Access Solutions Important?
In a recent radio interview, Dereck Djernes, Hamilton Information Systems Manager tells us about the often forgotten side of the IT world, cabling, security, and access solutions. Take a listen to the interview below.
Estimated watch time: 4 minutes, 46 seconds.
Our business is already wired with cabling, why do I need an upgrade?
As Dereck Djernes mentions, most cabling that is in existing buildings that are older is not sufficient enough to handle all the data that is trying to be pushed through the network. As most of that cabling is CAT 3 at best, running your network on that older type of cabling is similar to using dial-up internet. While at the time it was being used, dial up internet was sufficient. As technology evolves and more and more data is being pushed, that older cabling is no longer sufficient.
Today internet and data service providers such as Hamilton are installing fiber and in some cases, CAT 6 where needed, which provides lightening fast network speeds allowing all devices, computers, phones and other services that run with fiber optic cable to be able to connect and perform at a much greater level than those that operate on older cabling.
What does cabling have to do with security and access solutions?
Technology solutions such as door access control and security cameras, which Hamilton also provides, work best when connected to high speed cabling such as fiber as previously mentioned. At Hamilton we offer customized options for our customers and we work to fill their exact needs. Whether you need one or two security cameras or you need 100cameras, Hamilton is able to work with you and provide you the solution you need.
We believe in the value of working with a local business as well as being an IT partner with your business. We offer solutions from fully managed IT to co-managed IT making it easy for you to have an entire tech team at your fingertips, even if they are not employed by your business. It offers business owners the opportunity to take some tasks off of their plate while letting experts install and upgrade your products as needed and requested by you.
Fill out the form below and one of our expert team members will be in contact with you very soon!
Feel free to call us directly at 308-381-1000.
Discover more about Hamilton Business Solutions here!