Hosted phone systems offer better call quality, team mobility and a variety of tools to grow your business. In this article, we cover 3 ways this modern calling technology can streamline your entire team's workflow.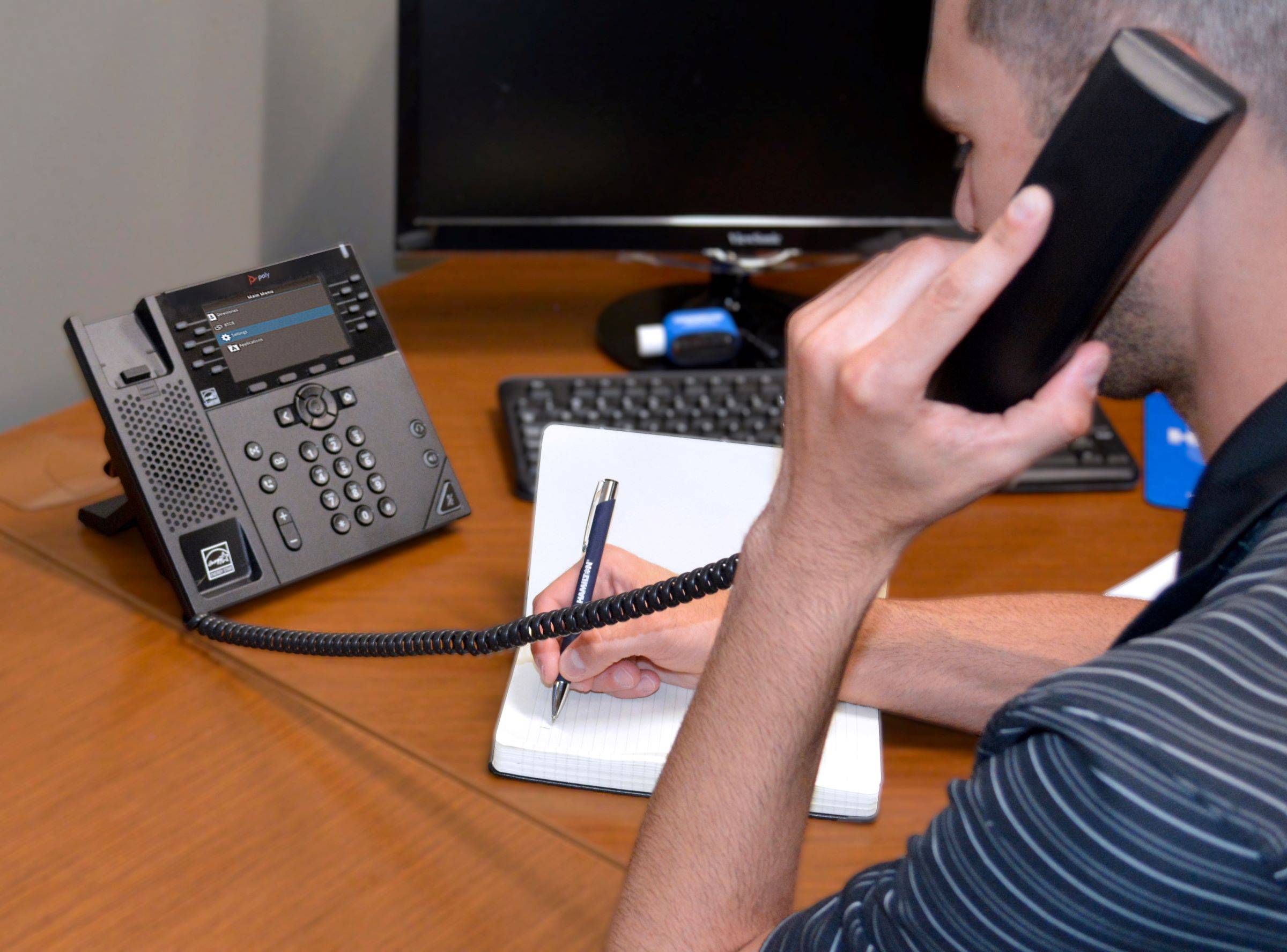 No matter what size your team is, what your day-to-day operation looks like, or what industry you are part of, one thing rings true:
A strong business is built on fostering strong connections, nurtured with reliable communications tools.
Often, the first point of contact for new opportunities and current clients alike is through your phone system. This makes it a vital asset for your business at all stages of its growth.
So if your business phones can take and make calls, that's all you need, right?
It wasn't so long ago that we thought similarly about the cell phones in our pockets.
That is, until we saw how modern tools and capabilities could provide a more exciting and efficient lifestyle. Similar quality of life benefits can be achieved for your business through a modern hosted phone system.
What is a Hosted Phone system?
Hosted phone systems are cloud-based, meaning calls are not locked to a singular workstation or office. Calls instead can be routed through a headset, mobile device or computer, with the ability to switch between devices for a call. No matter what device you use, you will still have all the vital business phone functions of call holding, voicemail, etc.
Additionally, hosted phones include a variety of easy-to-use tools for managing, reporting and securing your chosen calling device.
The features of a hosted phone system help you streamline your workflow in a variety of ways, including:
1. Achieving Team-Wide Mobility
If you're worried about staying connected with team members while away from your desk, a hosted phone system have you covered.
Since this system is cloud-based, your team's ability to make and place calls is no longer bound to a single physical environment or connection. Instead, calls can be made using mobile devices, laptops and more. This helps your team achieve professional quality calls, with fewer physical hardware elements to set up or maintain.
This is especially helpful for employees working from home, moving desks/office locations, or staying connected while out in the field.
2. Easier Management and Scaling
One of the many benefits of a hosted phone system is the ability to manage your team's connections, directories and security through a centralized administrative web portal.
This provides the ability to easily establish new employees phone connections, terminate old connections and manage any current connection issues at any time and from any location.
The centralized web portal even allows your team members to set their own customized preferences for voicemail, call forwarding, contact syncing across devices and more.
3. Data-backed Decision Making
In our digital age, "guess and check" methods no longer need to be the default answer for how to meet service level demands. In fact, a hosted phone system has the solution baked directly into the very tool you use to connect with clients – your phone!
You can receive performance reports and tracking tools for a variety of call metrics, including:
• Incoming Call Volume
• Number of Calls Answered
• Number of Calls Missed
• Average Call Length
• And Much, Much More!
This data can also be integrated with your team's CRM software and Microsoft Outlook. This allows a more automated flow of information and communication across the various tools your team utilizes.
How to Get Started with Hosted Phones
As with any business technology, one of the tentpoles of upgrading your business phone system is our central philosophy of:
"It doesn't need to be complicated, but it does need to be done right."
That's why we recommend partnering with a local technology provider like Hamilton to upgrade to a hosted phone system.
When you put a new system in place that has security baked into its foundation, you'll equip and empower your team with tools for success, all while minimizing downtime.
Our Nebraska-based team helps businesses across all industries with protecting and connecting their operation, from managed IT services to cybersecurity, data center services and more.
Contact us today for any questions, or to schedule a no-cost consultation with our experienced team of technicians.