SECURE AND ENHANCE YOUR OPERATION
With a full-service data center, Hamilton provides cutting edge IT and data support for today's businesses.
Specifically designed for today's on-demand environment, Hamilton provides:
Network Monitoring and Reporting

Application Server Hosting

Data Storage & Backup Services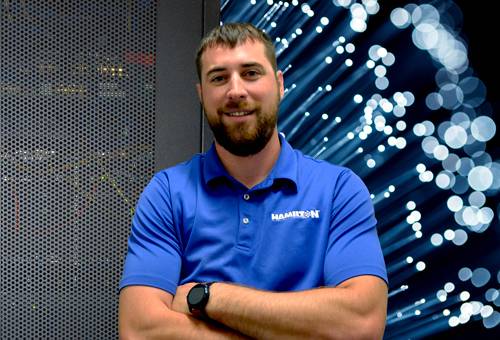 Hamilton provides their customers with one of the most trusted solutions in the online data backup recovery industry.  We reduce the risk and cost associated with protecting all of your devices and server data by ensuring your data is secure, available and accessible for recovery when needed.
A comprehensive and multi-layered approach to PC data security effectively secures data even when the PC is off-line.  Most importantly, we ensure organizational control of your data even when the enterprise has lost control of the device.
Online backup services provide consistent protection for critical business data that, if unprotected, can expose risk and compliance violations—all while easing the pressure on your IT time and resources.
DATA STORAGE & PROTECTION
Protecting and managing data has become critical to large and small businesses.  Hamilton backup services and data center solutions provides a range of scalable options—from leasing space for your equipment to complete managed hosting solution using Hamilton equipment.
A secure state-of-the-art data center offers 24x7x365 operations and reliable backup power.  Expert IT solutions provided by Hamilton ensures clients receive technical support for a complete managed hosting solution.
For over two decades, Hamilton has provided managed hosting for businesses across the nation where stringent regulatory performance guidelines must be met, and being fully operational 99.999 percent of the time is not only expected, but required.
Hamilton Cloud IT ensures:
Increased Speed & Agility
Most businesses operate on a hybrid or public cloud system—utilizing a few services that meet their needs.  This method leaves a few questions unanswered:
How is your data secured?

Is my operation protected from vulnerabilities?
Cloud IT securely stores data with real-time syncing of all necessary devices on the Hamilton secure server.
We proudly provide:
Storage – storing and backing-up files while providing access for sharing and syncing across multiple devices.
Backup—a secure source ensuring data is preserved and protected in event of hardware failures, disasters or cyberattacks.
Hosting—the Hamilton private cloud offloads hardware maintenance while facilitating information sharing within your businesses.
Software Compatibility – access to web-based services such as Office 365, Microsoft SPLA, VMware and more.
Certified Technicians – no matter the question or issue, our expert technicians readily provide 24×7 solutions for your business systems.